Rigid-Flex PCB is the circuit boards using a combination of flexible PCB and rigid PCB board technologies in an application, Most of Rigid-Flex PCB consist of multiple layers of flexible circuit substrates attached to one or more rigid boards externally and/or internally, depending upon the design of the application. Rigid-Flex PCB are a key enabling technology for products ranging from simple consumer goods to Military Electronics,They are the key elements in such diverse products as Cell Phones, medical equipment, Electronic Security PCB, keyboards,hard disk drives,printers, And it become more and important for PCB field in the future.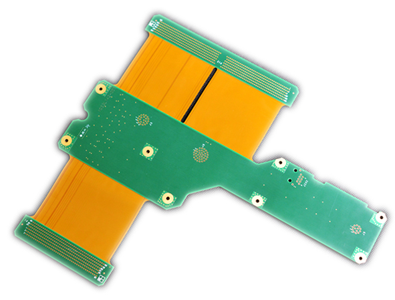 MTL-FPC insists to provide the best Rigid-Flex PCB to our customer, If you are looking for a Rigid-Flex PCB supplier, our experts are here to assist you to get the maximum value in your business. With a large number of investment on the facilities of flexible PCB and continuously innovating the flexible PCB manufacture technology, Our Rigid-Flex PCBGroup is able to provide our client with flexible PCB as well as Rigid-Flex PCB with a variety of technologies, from single-sided FPC to complex multilayer flexible PCB and Rigid-flex PCB with HDI blind and buried design even with Impedance Control PCB.
Please send us the PCB gerber file with SPEC,we will respond to your urgent requirement WITHOUT any delay.